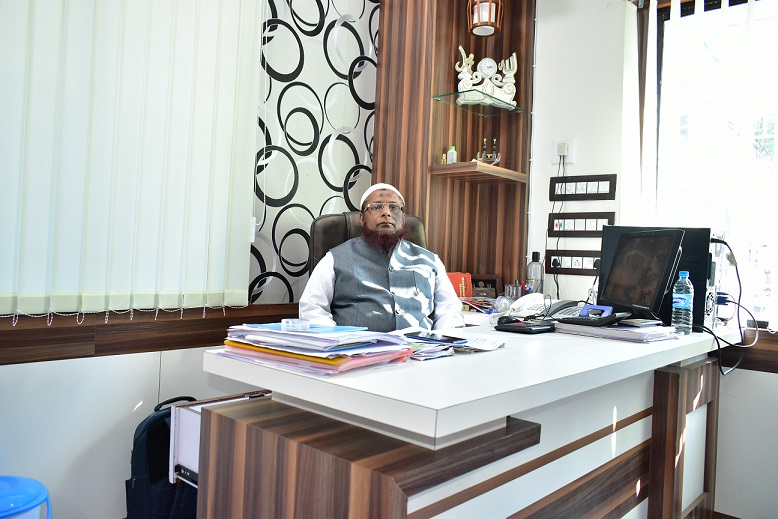 It's time to pen down my thoughts, as the Secretary of this TPS family regarding education which prepares real human beings. It gives me great pleasure to inform you about some of the proactive measures taken by our management to ensure that Tamralipta Public School gives its students the best overall education in the most congenial and healthy environment.
I have always thought of exploiting the total potential energy in me and converting it into the kinetic form. I believe that the school management has a vital role at reforming the whole nation and meeting the need for excellence in education on a priority basis. I believe that children are like soft clay and they can be transformed. For that matter, the school must have a clear vision of what they want out of their students, who are the future of the country. Therefore, in my opinion, the first role of education in schools should be to inculcate nationalism in children.
Secondly in my priority list is that schools should maintain the cultural values of our country. which is very important. Without cultural values, we cannot really apprehend our past, which is very glorious, and we have to be linked with that. Teaching only Physics, Chemistry, or Biology is not a difficult job; We have been producing thousands and thousands of doctors and other professionals. But converting them into good human beings is very difficult.
Our school is one of the top english medium school in the district head quarter of Purba Medinipur, and only most prestigious ICSE schools in Tamluk town. In the coming years our institution will be the pride of West Bengal and the nation. We are renovating and upgrading our buildings and other facilities at par with modern standards. The CCTV camera will be installed very soon in the school building. A big generator has already been installed to ensure un-interrupted power supply to cater to the needs of the school. Our future plans are quite ambitious enough to make us the best ICSE as well as ISC institution in the region.
Technology aided learning is an integral part of the school curriculum. Regular digitally aided presentations are made by teachers and students and this helps in clarifying concepts and promoting cooperative learning. A well-equipped computer lab with internet facilities, well stocked library and three science laboratories have helped knowledge to go beyond the confines of the class room.As far as the matter of providing quality education and holistic development of our kids is concerned, TPS is well equipped with all kind of updated scholastic , co-scholastic and non-scholastic facilities including teachers having profound knowledge in their areas. Also, the school is continuously putting sincere efforts with greater dedication.
It is well known that the role of school in kids education, development and shaping them as good citizens is of utmost importance. But, at the same time parents' effective role in kids education in today's highly competitive world has become even more important. Parents will therefore have to be more participative and more involved in their kids' education/ holistic development.
We believe that each one of us, whether teachers or parents are highly knowledgeable and have set very high standards by playing one's role rightly. To move further towards excellence and to provide new heights to the school flagship, May I here appeal to all concerned to do further better, and set new records and benchmarks by rendering exemplary contribution.
I believe that if we all join hands in making a mission that children are our destiny, that we have to shape their careers and future, we can do so; we have the potential because children come to school at a tender age and it is then that we become their guiding lines. I look forward to the combined support of all the stakeholders to make Tamralipta Public School the best school in the district as well as the state.
Sk.Khairul Islam
Secretary
N.H.K. Welfare Foundation